Mar. 5 (NBD) -- Have you imagined that a virtual broadcaster can take over human to present TV programs or shows in the future?
The world's first artificial intelligence (AI) female news presenter made a professional debut on Sunday and reads news during the annual meetings of the Chinese People's Political Consultative Congress and the National People's Congress.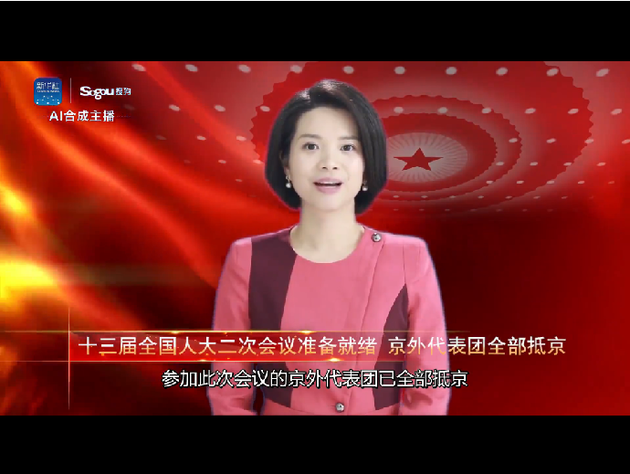 Photo/Xinhua

The AI anchor named Xin Xiaomeng is jointly created by state-run news agency Xinhua and Chinese search engine developer Sogou. "Her" human image is based on Xinhua's real life female presenter Qu Meng. Xin Xiaomeng acts exactly like a real person, blinking and adjusting the hands as "she" speaks despite a few stiff lip movements.
This is the latest breakthrough in the deep integration of AI and news gathering and editing for the two sides since early November last year, when the two sides released the first two male AI presenters around the world at the 5th World Internet Conference.
With the adoption of voice, lip and facial expression synthesis and deep learning technology, these two male anchors act like real people and can speak Chinese and English. They have broadcasted more than 3,400 pieces of news with a cumulative length of over 10,000 minutes in three months since they joined Xinhua.
Though their voices are still unnatural and their facial expressions and mouth movements fail to match sounds, the anchors, different from their colleagues, can work 24 hours a day to serve the news agency's official website and accounts on social media platforms, which reducing news production costs and improving efficiency, noted Xinhua.
This time, Xin Xiaohao, one of the male AI presenters, is able to broadcast in a standing position. After the sound and image engines are optimized, "he" can speak with much emotion and has more lifelike facial expressions and body languages that naturally go with the sound.
Jordanian media AI Bawaba said China has become one of the world's leading AI development centers in recent years, while news website Quartz from the U.S. pointed out the threat AI would pose to the flesh-and-blood employees.
The application of AI image by Xinhua finds a novel way for virtue AI characters entering the mainstream culture.
Hatsune Miku, a Vocaloid developed by sound generator maker Crypton Future Media, has become a popular virtual idol among the young generation.
Besides, the computer-generated Instagram models such as Lil Miquela and Bermuda also shot to fame online. Lil Miquela who is a singer and model, has over 1.5 million followers on Instagram and has forged collaboration with brands including Prada.
Email: zhanglingxiao@nbd.com.cn
Editor: Zhang Lingxiao