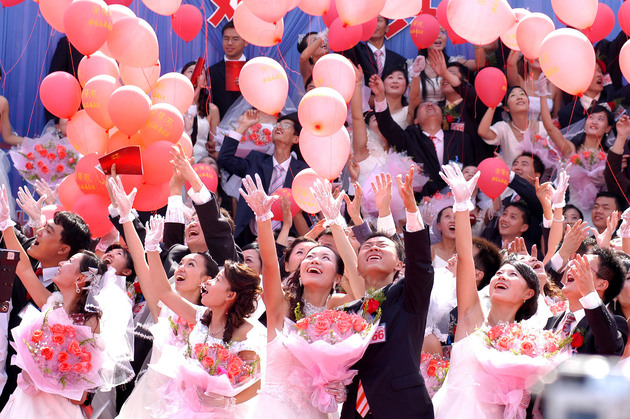 Photo/VCG
Mar. 1 (NBD) – Jiayuan.com, one of China's largest dating platforms, apologized Monday on its official Weibo account for a romance scam, vowing to compensate the victim with three times the amount of the service charges stipulated in the agreement.
The catfishing case aroused heated debates with outraged netizens crying foul against online dating hoaxes.
A man surnamed Wu in Hangzhou, Zhejiang Province, matched through Jiayuan.com with a woman surnamed Zhu who claimed to be a Peking university graduate and the daughter of a CEO in a listed company. Wu paid the dating website 10,800 yuan (1,613.0 U.S. dollars) for membership. They soon started dating.
But, astonishingly, Zhu frequently asked Wu for costly goods and red envelope, and Wu spent nearly 30,000 yuan (4,480.5 U.S. dollars) on Zhu within only three days. 
Wu began to doubt the authenticity of her identity and reported his concern to Jiayuan.com, yet the website promised on Weibo that Zhu's identity is true and the company has "100 percent" authenticated and verified the users' identities. 
However, the situation finally turned bitter. Wu found Zhu wasn't a graduate of Peking University and was a divorcée with two children. 
Later the market supervision authorities declared Jiayuan.com would possibly be accused of swindling consumers and doing fake advertising, and put the case under investigation on January 21, 2019.
This further reminds the public of the death of WePhone's founder Su Xiangmao, who married a woman named Zhai Xinxin whom he was matched with via the website and whose identity was also proven to be fake. They got divorced 42 days after marriage. Su decided to take his life after leaving notes saying that Zhai extorted him for whopping alimony and real-estate assets after divorce. 
Incomplete statistics from news outlet The Paper showed there were in total 76 criminal verdicts related to online dating in recent years, covering 21 provinces and the money involved in the cases reaching 60 million yuan (9.0 million U.S. dollars). Some employees of dating website colluded with scammers, and the number of people defrauded even exceeded 100 in one single case. 
Under such circumstances, some dating companies still deem the frequently-occurring incidents no big deal even though they will suffer severely from stock plunge, reputation depreciation or brand image damage. But why?
In fact, the repeat purchase rate of dating platforms is close to zero. As for the dating companies, the one-time match-up is the only way for them to reap profits, which leads to a vicious circle. Companies make a quick buck via the match-up to survive, undermining user experience, triggering consumers' resentment, and finally resulting in a trust crisis.
At the same time, there are also some match-making platforms alarmed by the frequent fraudulence and hence issuing self-regulatory strategies such as bringing in the identity verification technology from Alibaba Cloud and providing 24-hour customer services.
But apparently, it's still not enough to solve the problem haunting the industry. AI, which is widely applied though, is inclined to matching or processing but doesn't do well in information security. Manual verification is not a pragmatic option, either, as relying on manual work will increase costs and employees' involvement in criminal cases might happen again. 
Since most of the deception is based on information asymmetry, blockchain, a growing list of records or blocks linked using cryptography, might be a suitable technology for the dating industry as it will ensure that personal data and any update of the data are transparent and can't be changed.
Apart from improving self-discipline and embracing the blockchain technology, the industry should make more efforts to expand business and seek new opportunities for monetization.
Email: wenqiao@nbd.com.cn
Editor: Wen Qiao