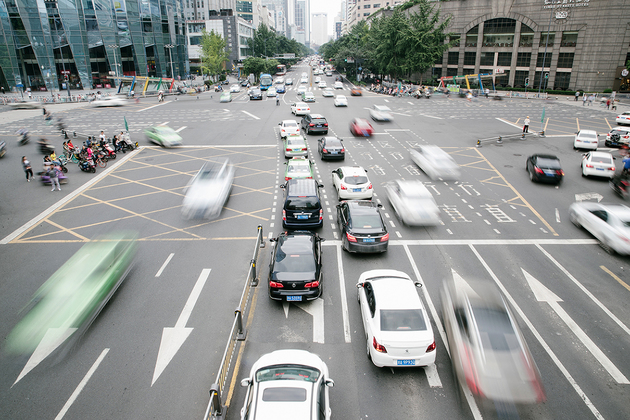 Photo/Zhang Jian
Jan. 10 (NBD) – President and CEO of Intel's self-driving unit Mobileye, Amnon Sashua, announced separate cooperation with Beijing Public Transport Corporation (BPTC) and Great Wall Motors (GWM) on Tuesday, marking the company's expansion in both public and private transport in China.
BPTC is one of the largest public transport corporations in China. Beijing Beytai, Mobileye's strategic partners in China, will join the two to research and promote self-driving solutions to China's public transport sector. This brand new solution is expected to take shape in 2022. 
The cooperation with GMW aims to introduce GWM vehicles equipped with advanced driver-assistance systems (ADAS) developed by Mobileye to overseas markets.
GWM started researching self-driving technology in 2009. According to the company's plan, GWM will achieve mass production of L3 self-driving cars by 2020, L4 by 2023 and L5 by 2025. 
In self-driving terminology, L3 means conditional automation where driver intervention is required, and L5 means complete driverless navigation. L4 marks an automation level in between.
The cooperation with Intel will hasten GWM's production of self-driving cars. For Intel, cooperation with traditional automobile manufacturers and ADAS providers can better utilize its leading advantages in chips. 
Moreover, self-driving cars will bring torrential data, with which Intel can further develop its AI technology.
As an important strategic market for self-driving, China has become a heated battlefield for self-driving companies and automobile manufacturers.
According to a blueprint on smart vehicles drafted by the National Development and Reform Commission, by 2020 half of new cars will be smart vehicles, and by 2025 basically all new cars will be smart ones.
Previously Mobileye cooperated with SAIC Motor to co-develop L3 to L5 self-driving cars. It also entered a comprehensive strategic partnership with intelligent automobile tech company NavInfo to develop Mobileye's road experience management (REM) products. Electric vehicle manufacturer NIO's first mass produced model ES8 is the world's first model to have equipped with Mobileye's EyeQ4 chip.
Intel acquired ADAS giant Mobileye for 15.3 billion U.S. dollars in March 2017, and it was the biggest deal in the sector. At the time Mobileye claimed to have captured 70 percent of the ADAS market.
Since Intel has acquired FPGA (Field Programmable Gate Array) chip maker Altera and computer vision algorithm company Movidius, acquisition of Mobileye enabled Intel to form a complete self-driving solution. Senior vice president of Mobileye Erez Dagan said Intel will launch self-driving chip EyeQ5 in 2021.
Nvidia, another big player in self-driving chip and rival of Intel, cooperated with a number of Chinese car manufacturers as well.
Email: limenglin@nbd.com.cn
Editor: Li Menglin