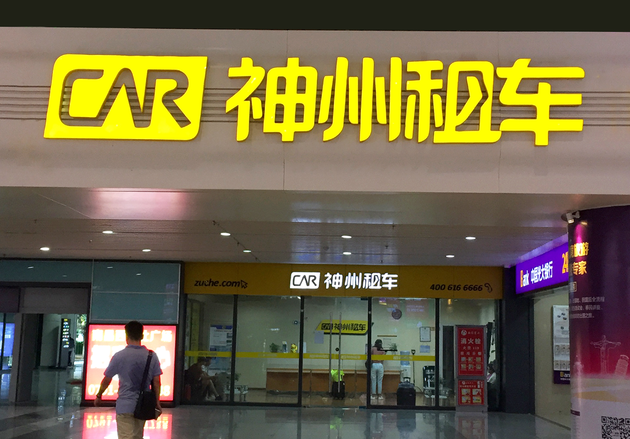 An outlet of CAR, the car rental arm of UCAR (File photo/Zhang Xiaoqing)
Jan. 10 (NBD) -- China's chauffeured car service provider UCAR announced new retail platform on Tuesday jointly with automaker Borgward, in a bid to separate sales from production, remodel sales channels, reconstruct automobile consumption and redefine new retail in auto industry.
Bruno Lambert, former president of automotive supplier Magna Steyr Asia, made his debut as the global president of Borgward at the news conference.
UCAR chairman and CEO Lu Zhengyao said that Borgward, with good products and factories, fits with his company's strategy to straighten up and connect the upstream and downstream through investment and acquisition.
The tie-up between UCAR and Borgward came as China's automobile market started to lose steam in 2018. Data from the China Passenger Car Association showed China's passenger vehicle sales declined by 5.8 percent in 2018 from the previous year.
But Lu saw the UCAR-Borgward partnership as a "really good mix", despite the bumpy year of 2018 for the auto industry.
Ever since Borgward entered the Chinese market, the company has sustained losses, which is perceived to put great pressure on UCAR.
According to earlier media reports, Borgward's sales stood at 24,777 units during the first nine months of 2018, down 19.2 percent year over year. The carmaker incurred losses of more than 1.6 billion yuan (234.7 million U.S. dollars) during January-August period in 2018.
In response, Lu explained that his company had carefully weighed cash flow and profitability of the auto manufacturer before offering a guarantee for the transferee that will take over a majority stake in Borgward.
In Lu's view, the only problem facing Borgward is its sluggish car sales, but the new retail platform will help the automaker sell more. Moreover, UCAR will purchase more vehicles from Borgward, Lu added.
Through the new partnership, channels of UCAR and Borgward will be deeply integrated, and the system of the carmaker's 4S stores will be part of UCAR's network, according to Lu. UCAR is to build up a giant network of outlets so that customers can take a test drive or rent a car at a convenient distance.
Lu pointed out the outlets will be categorized into three types, which are flagship stores, franchise stores and authorized outlets. "Other than that, we don't rule out the possibility to increase customer flow via platforms like Alibaba's Tmall, but sale and delivery should be carried out in our own stores."
UCAR also plans to build 200-300 directly-run maintenance centers across China in one year, to provide better after-sales services for customers.
Email: gaohan@nbd.com.cn
Editor: Gao Han