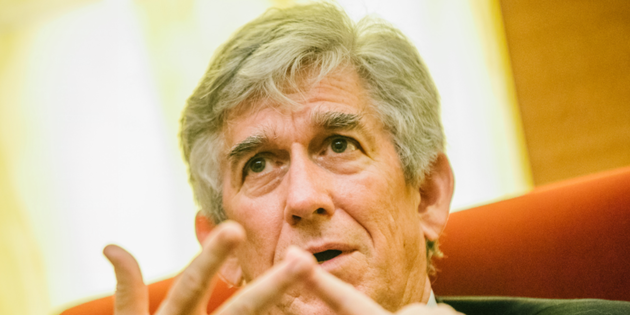 Dennis Delehanty (Photo/Zhang Jian)
Dec. 5 (NBD) – "I started out by reading Lu Xun, and I like works by Lao She and Ba Jin as well, while what I love most is Shen Congwen's Border Town," speaking of Chinese literature, Dennis Delehanty, student of the Confucius Institute at George Mason University and a veteran U.S. diplomat, was enthusiastic and conversant. 
Delehanty, or Dai Danyi, his Chinese name in Pinyin, came to southwest China's Chengdu to attend the 13th Confucius Institute Conference with other 14 Americans as members of U.S. China Confucius Institute Alumni People to People Delegation.
The conference, held on December 4 and 5, drew over 1,500 participants including university presidents and Confucius Institute delegates from more than 150 countries and regions. 
"We came here for common goals, which are to promote understanding and respect among peoples around the world, and to live in peace and cooperate conscientiously. These are also my lifelong ideals." Delehanty said in a speech given at the opening ceremony of the conference.
Guided by the ideals, Delehanty learnt several languages in college, and went on to learn Chinese after graduation, and had pursued a career in diplomacy and postal service in the U.S. Department of State for over 40 years. 
He continued his study of Chinese in the Confucius Institute at George Mason University in 2012, where he also started a reading club themed on Chinese literature with the help of the institute's faculty. Their reading list covers key figures in modern Chinese literature such as Lao She, Ba Jin and Shen Congwen, and includes contemporary writers like the Nobel laureate Mo Yan and avant-garde writer Su Tong as well.
The teachers at the Confucius Institute are very professional and dedicated, and under their guidance, the club members are enabled to appreciate the wonderful Chinese culture and the kind and strong character of Chinese people via reading the classic works in the original language, said Delehanty in the speech.
Delehanty has a broad interest in languages and can read books in seven languages. He said that reading books in Chinese helps him enter the story like a Chinese, which is a special feeling he first felt when reading Ba Jin's novel Cold Nights.
Under his influence, his daughter Carmen also fell in love with Chinese, and studied in Beijing with the scholarship offered by the Confucius Institute at George Mason in 2011, and later worked in China for several years.
Delehanty was delighted to see more Confucius Institutes are established and 9 countries set up their first Confucius institutes. 
"Confucius Institutes closely connect China with the world, promoting language comprehension and fostering people-to-people exchange. These are the institutes' contributions to all mankind," said Delehanty.
He hopes that in the future the institutes can offer more challenging subjects like history and philosophy, apart from culture and literature, for people like him who want to know more deeply and thoroughly about China.
"I will definitely encourage people to go if the Confucius Institute starts offering philosophy courses one day," said Delehanty.
Email: limenglin@nbd.com.cn
Editor: Li Menglin