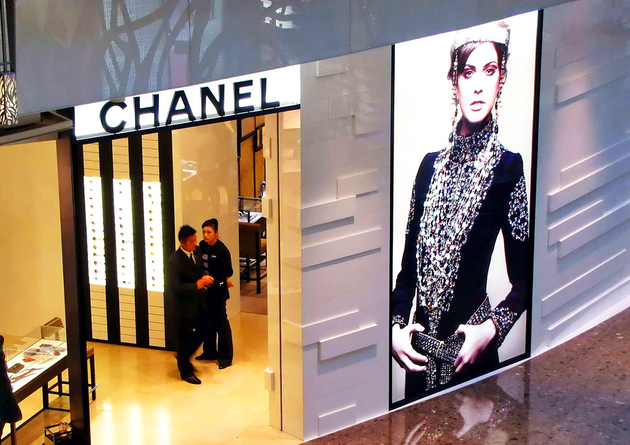 Photo/VCG
Nov.8 (NBD) -- Fueled by strong demand, the luxury industry has been regaining strength in China following a 3-year slowdown since 2013, reported news outlet the 21st Century Business Herald citing Pascal Martin, a partner at OC&C Strategy Consultants (OC&C).
According to the report "2017 China Luxury Market Study" released by consultancy company Bain & Company, luxury spending grew 20 percent in 2017 compared with a year earlier, representing the largest increase since 2011.
As the price gap of luxury goods between China and overseas market is narrowing, more Chinese consumers are willing to buy such goods at home, mostly through online channels, Pascal Martin explained.
Young consumers, especially the post-1995s (also known as Generation Z), have become major contributors to the market growth because they are digital savvy.
Digital platforms and social media are playing a big role in driving luxury sales, said Martin. With the Double 11 Shopping Festival approaching, luxury brands like Dolce & Gabbana, Michael Kors and Shiatzy Chen are redoubling their efforts to directly promote products and build influence on social media.
Fashion bloggers are also playing a part in the efforts. For example, top Chinese fashion blogger gogoboi and shiliupo teamed up with overseas luxury goods platform Farfetch, Reebonz and Matchesfashion to sell discount goods on their WeChat stores during last year's Double 11 Festival. And it worked out quite well.
It's worth noting that currently only 9 percent of luxury consumption are made online in China, while the proportion in more developed markets can reach 15-16 percent. But going digital is a future trend, as online platforms offer wider selections and flexible payment options, said Wang Chong, an associate partner of OC&C.
Currently, T-mall and JD are taking the lead in terms of the capacity of converting visitors into buyers, followed by NetEase Kaola, Xiaohongshu, Yangmatou and Secoo. In addition, they outperform overseas shopping platforms such as Shopbop, Net-a-Porte and Farfetch in sales volume, and more efforts are needed to crack down on counterfeit goods and improve shopping experience.
Email: tanyuhan@nbd.com.cn
Editor: Tan Yuhan