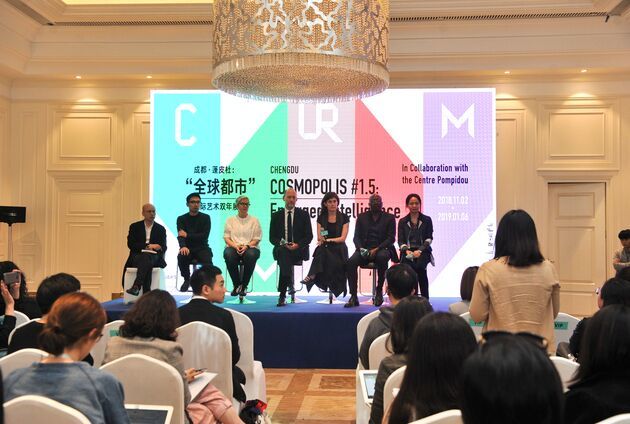 Photo/Cosmopolis #1.5: Enlarged Intelligence
Nov. 5 (NBD) – International art biennial Cosmopolis #1.5: Enlarged Intelligence, jointly held by the Centre Pompidou, Mao Jihong Arts Foundation and Chengdu Media Group, opened Friday in Southwest China's Chengdu, and will continue till January 6.
The exhibition consists of five sections, in which around 60 artists and groups from more than 20 countries and regions will explore how intelligent technologies impact on modern societies and how to reshape the relationship between urban and rural areas.
The main exhibition is held in Eastern Suburb Memory, an artistic and creative zone repurposed from disused factory buildings, where newly commissioned interactive devices and research-based works on ecology, technology and public space will be displayed.
The exhibition is not confined to art galleries. An artist residency project takes place in Shiyan Village in the neighboring Jiajiang County, where artists will cooperate with local communities to discover new potential in the transformation of rural areas.
Liu Suola, celebrated writer and musician, curated X Music Festival for the biennial, presenting both traditional Chinese music and vibrant contemporary music, in a bid to highlight the undefined character of local music in a globalized age.
Other events include a floating "archipelago" made of bamboo and wood placed on the city's Jincheng Lake for visitors to rethink art and water culture, and various talks held at the bookstore Fang Suo and Eastern Suburb Memory.
Cosmopolis was launched by the Centre Pompidou, the revered French art institution located in Paris, in 2016. It is a biennial platform that focuses on research-based artistic practices and engages in international conversations.
The Chengdu exhibition is the second major event by the platform since Cosmopolis #1: Collective Intelligence was held in the Paris center in 2017. It also marks the Centre Pompidou's first local curating practice in a Chinese city.
The international art gala highlights Chengdu's creative spirit and artistic glamour, demonstrating the city's efforts to build a world renowned cultural city.
President of the Centre Pompidou Serge Lasvignes told NBD that Cosmopolis was looking for a suitable locale outside Paris for the project to grow, and they finally deemed Chengdu a great choice. With full support from Chengdu Municipal Government and Sichuan Provincial Department of Culture, they brought the second installment to Chengdu which boasts rich artistic tradition and other cultural heritage.
For some artists, this is the first time to visit Chengdu. They felt that the city is like a giant treasure trove, with a lot of artistic inspirations worth exploring, Ning Zheng, CEO of Mao Jihong Arts Foundation told NBD.
Email: limenglin@nbd.com.cn
Editor: Li Menglin