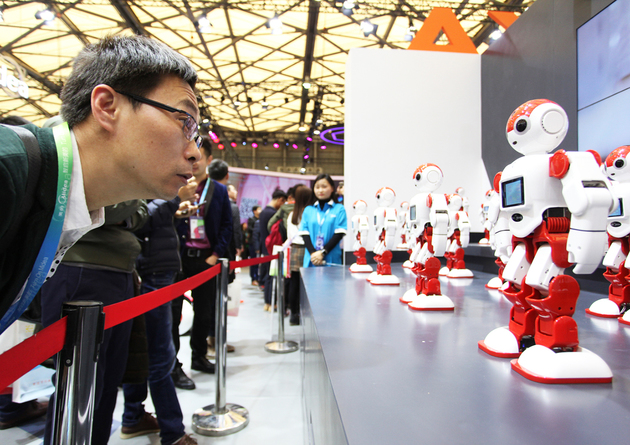 Photo/VCG
Chinese tech heavyweights and startups said on Thursday that they will boost investment to promote original research and industrial applications of artificial intelligence, in response to the central authorities' call to build the nation into a leading AI power.
Liu Qingfeng, chairman and CEO of iFlytek, China's largest voice recognition company, said the top leadership's emphasis on AI's role in buoying overall social development will put it on a superfast-growth track.
"We will pour more resources into exploring 'no man's land' in the scientific territory, and work very hard on incorporating AI into a wide range of sectors," Liu said. The company has been devoting 25 percent of its annual revenue to R&D for six years.
The comments came after Xi Jinping, general secretary of the Communist Party of China Central Committee, on Wednesday called for more efforts to develop the new generation of AI to inject a fresh driving force into the country's high-quality economic growth.
China aims to grow the country's core AI industries to over 150 billion yuan (21.6 billion U.S. dollars) by 2020, 400 billion yuan (57.7 billion U.S. dollars) by 2025, and 1 trillion yuan (144.2 billion U.S. dollars) by 2030.
Tang Xiao'ou, founder of SenseTime and a professor at the Chinese University of Hong Kong, said scientific planning is needed to widen the use of AI. "The technology is not an independent industry. It must be tightly associated with traditional sectors to unleash its potential and to boost efficiency.
"More efforts are needed to strengthen the partnership between State-owned and private companies when exploring the application of AI," Tang added. The four-year-old company is partnering with the Massachusetts Institute of Technology to further advance research on computer vision and it is developing self-driving solutions in partnership with Japanese carmaker Honda.
China is building five national AI open innovation platforms by relying on Alibaba Group Holding Ltd in smart city technologies, Baidu Inc in self-driving technologies, Tencent Holdings Ltd in AI-enabled medical treatments, and iFlytek in voice-recognition technologies, as well as SenseTime in facial recognition technologies.
The nation is working hard to boost the application of AI in the automobile, robotics, healthcare and other sectors. In the first nine months of this year, China's industrial robot output increased 9.3 percent year-on-year, official data show.
On Thursday, A shares related to AI industries registered strong performances and led the rise of the market. Among sub-indices that went up more than 2 percent were those tracking the companies engaged in facial and speech recognition, cashier-free retailing, intelligent transportation, and cloud computing.
The sub-index of the robot industry rose by 2.14 percent, with eight companies in this sector jumping by their daily limits of 10 percent, according to financial information provider Wind Info.
Email: limenglin@nbd.com.cn
Editor: Li Menglin