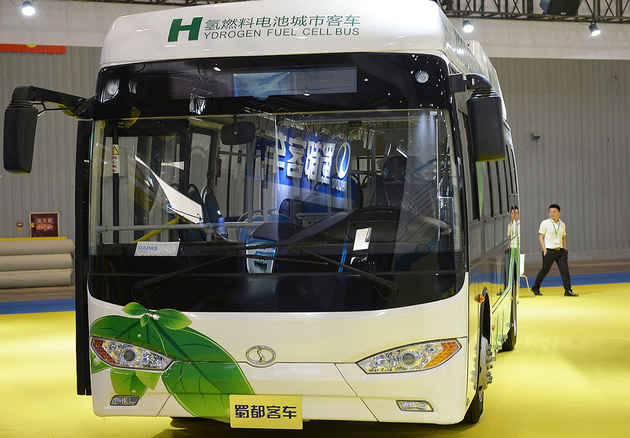 Photo/VCG
Oct. 30 (NBD) – The number of hydrogen fuel cell vehicles (FCV) in China will reach around 5,000 by the end of 2018, and the FCV output is expected to hit 2 million units by 2030, accounting for 5 percent of the total vehicle production for the country. 
With the advantages of long range, strong power, short refueling time and zero emissions, therefore many FCVs are regard as a major option of new energy vehicles.
Data shows that currently in China there are 56 types of FCV models developed by 41 automobile manufacturers, 25 fuel cell companies, 17 hydrogen refueling stations in operation and 45 under construction.
Besides, several Chinese citiess are making efforts to develop the FCV sector. Rugao of East China's Jiangsu Province, for instance, has built a fledgling industry chain for FCVs, with approximately 20 related enterprises. Its annual output value of the hydrogen energy industry exceeded 3 billion yuan (431.2 million U.S. dollars) last year. 
Vice president of Great Wall Motors Tobias Brunner sees optimistic prospect in China's FCV market. He predited that fuel cell cars will take up 50 percent of the electric car market in China by 2030.
Wan Gang, president of China Association for Science and Technology, is also bullish on the industry, revealing that while the central government has decided to terminate subsidies for fully electric vehicles in 2020, it will maintain financial supports for FCVs.
Seeing the great potential of FCV market, more auto manufacturers are making foray into the niche sector.
Great Wall is set to debut a team of FCVs in 2022 Beijing Winter Olympic Games. 
Foton Motor, leader of hydrogen fuel cell buses, has made breakthroughs in commercial applications. On July 25, 49 fuel cell buses were put into service in Zhangjiakou City, and 5 were launched in Beijing recently.
However, the FCV models so far are mainly vehicles for logistics, with few passenger models. Technological and industrial weaknesses have to be overcome before the economical advantages of FCV can be fully exploited.
Hao Jingxian, director of SAIC Motor Commercial Vehicle Technical Center, said that China depends heavily on import for raw materials and key components, leading to high cost that obstructs full commercialization of FCVs. 
Wan Gang pointed out that the weak hydrogen industry chain makes it hard to lower hydrogen price. 
Technological standards and examination systems also need to be improved, he added.
Email: limenglin@nbd.com.cn
Editor: Li Menglin