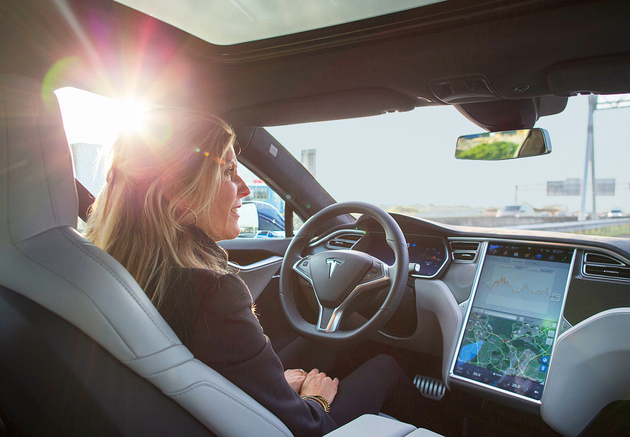 Photo/VCG
Oct. 23 (NBD) -- It is predicated that China's intelligent connected vehicle market will exceed 100 billion yuan (14.42 billion U.S. dollars) by 2020 and a new automotive era is just around the corner, Miao Wei, Minister of the Ministry of Industry and Information Technology, stated at the World Intelligent Connected Vehicles Conference held in Beijing last Thursday.
Since traditional auto and internet enterprises complement each other, their cooperation are becoming increasingly close.
China's mainstream auto firms have successively inked partnerships with internet titans including Baidu (NASDAQ: BIDU), Alibaba (NYSE: BABA), and Tencent (OTCMKTS: TCEHY). The collaboration between them is expected to give a strong boost to the development of China's intelligent connected vehicles.
Due to different development strategies, tech companies play different roles in the intelligent connected vehicle ecosystem.
Baidu aims at reconstructing the ecosystem of the vehicle industry by virtue of artificial intelligence (AI). The tech company entered the automotive industry in 2013 and announced its open-source autonomous driving platform Apollo in 2017. To date, Apollo has attracted 119 partners including Daimler (OTCMKTS: DMLRY), BMW (OTCMKTS: BMWYY), and Microsoft (NASDAQ: MSFT).
Alibaba eyes not only vehicles but also roads. In September this year, it announced a plan to build "smart highway" by applying the Intelligent Vehicle Infrastructure Cooperative System (IVICS). Internet should be an infrastructure, rather than access network, for vehicles and intelligent connected cars should have the ability to help decrease the urban resource consumption, commented Wang Jian, Chairman of Technology Steering Committee at Alibaba.
The internet conglomerate has already cultivated partnerships with Honda (NYSE: HMC), Ford (NYSE: F), BMW, and SAIC Motor (600104.SZ). Last month, it unveiled the 2.0 version of its Internet of Things operating system AliOS, in a bid to push forward the smart transformation of traditional vehicles.
At the conference, Tencent CEO Pony Ma said his company is willing to serve as a "helper" to drive the digitalization of the vehicle industry. Last year, Tencent released the AI in Car system based on its open-source platform Tencent Automotive Services and announced the first OEM partners of this ecosystem, which includes BYD (002594.SZ), Geely (00175.HK) and GAC Group (02238.HK).
Compared with traditional car makers, internet giants boast more advantages in AI research and development and big data accumulation. However, in terms of traditional automotive technologies, they are at a disadvantage. On this occasion, ties between internet and traditional auto giants are being intensified.
Statistics from research and consulting services provider ASKCI indicated China's intelligent connected car industry reached 11.51 billion U.S. dollars in 2017. The figure is expected to hit 16.77 billion U.S. dollars this year with an increase of 39 percent year over year and to rise to 53.53 billion U.S. dollars by 2022 with the compound annual growth rate of 36 percent.
According to a report released by McKinsey, China is likely to be the largest market for autonomous vehicles in the following decade.
As investments from Baidu, Alibaba, and Tencent accelerate the changes of the industry, it is crucial for Chinese auto manufacturers to develop core technologies, grasp opportunities, and sharpen their edge to stand out from global competition.
Email: wenqiao@nbd.com.cn
Editor: Wen Qiao