Sept. 12 (NBD) -- Chinese electric-vehicle maker NIO Inc. will begin trading on the New York Stock Exchange Wednesday (U.S. time) under the symbol "NIO". 
The IPO, however, didn't get a warm market response. NIO priced its IPO at 6.25 U.S. dollars, the low end of the targeted price range of 6.25-8.25 U.S. dollars per share, according to Reuters.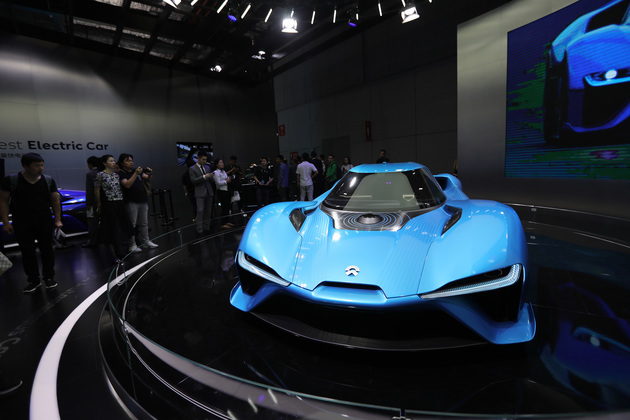 File photo/NBD
Backed by Chinese tech behemoth Tencent Holdings Ltd, the electric car manufacturer submitted its IPO prospectus to the U.S. Securities and Exchange Commission in mid-August, applying for a float of nearly 1.8 billion U.S. dollars. But later that month, the company revised the prospectus, lowering its financing target to no more than 1.518 billion U.S. dollars.
Meanwhile, Japanese conglomerate SoftBank Group, which was in talks earlier this year to take a stake in NIO, has decided to back out, according to The Wall Street Journal.
The down-round IPO comes as NIO is seeking fresh capital to fuel its product development and to establish a beachhead in China's electric vehicle market. At present, the company's cash and cash equivalents are worth less than 4.5 billion yuan (656.5 million U.S. dollars). 
According to the prospectus, the carmaker incurred a net loss of approximately 2.57 billion yuan (374.9 million U.S. dollars) and 5.02 billion yuan (732.4 million U.S. dollars) in 2016 and 2017, respectively. The metric for the first six months of this year was 3.33 billion yuan (485.8 million U.S. dollars). If the trend continued, the company's full-year net loss would hit a new high. 
Speaking at the First China New Energy Auto Industry Summit held on Sunday, Jia Xinguang, executive director of the China Automobile Dealers Association, said that many new-energy vehicles (NEVs) are facing a number of issues, such as insufficient production capacity, poor performance and lacking competitiveness. Electric car upstart Tesla has announced its plan to build a factory in China, and foreign battery technologies are getting increasingly mature. In such a scenario, there is not much time left for Chinese NEV manufacturers to grab the domestic market, Jia held. 
Tesla's assembly plant in China is scheduled to come on stream in two years. It will take another 2-3 years for the factory to reach a capacity of 500,000 vehicles annually. 
Jia said that many Chinese-made NEVs are priced at similar levels of Tesla's Model 3, and as long as the American electric car startup starts volume production, it will deal a great blow to Chinese auto manufacturers. 
Despite the enormous loss, NIO would have the potential to lead the pack in China's NEV market, provided that it solved the capital issue. 
Since its founding in 2014, the startup has completed six rounds of financing, having raised more than 14 billion yuan (2.0 billion U.S. dollars) and attracted big names like Tencent, Baidu, Hill House Capital, and Sequoia Capital. 
In terms of business strategy, NIO doesn't actually count on vehicles to make money. Similar to smartphone manufacturer Xiaomi, the auto manufacturer plans to leverage vehicles as a tool to expand its customer base and then try to earn money by offering customers a pleasant lifestyle via a variety of Internet services.
Email: lansuying@nbd.com.cn
Editor: Lan Suying