Apr. 12 (NBD) -- At the dinner hour on Wednesday, food delivery men in different uniforms kept going in and out of a shopping center at Wuxi city, east China's Jiangsu province.
The number of orders has increased by seven times these days, and they kept delivering till 12am, a delivery man with online food delivery giant Meituan-Dianping told NBD while running to deliver meals.
This is an epitome of the war between Meituan-Dianping, Didi Waimai, and Ele.me in the food delivery market in the city.
Tension increased
Didi Waimai launched its food delivery business for trial in Wuxi in early April, grabbing a lot of market share with its promotion of "20-yuan (3.2 U.S. dollars) off for the first order" plus share-based red packets. After eight days of operation, it became the largest food delivery platform in the city in terms of market share.
In face of Didi Waimai's aggressive move, Meituan-Dianping announced the "free delivery" campaign in addition to red packets, adding to the tension between the two companies.
Some merchants claimed that as they started to sell products on Didi Waimai app, their stores were taken offline by other two platforms.
A restaurant manager confirmed this to NBD, saying a number of small hotels or restaurants have to choose one platform out of the three, but those with rave reviews can run on multiple platforms.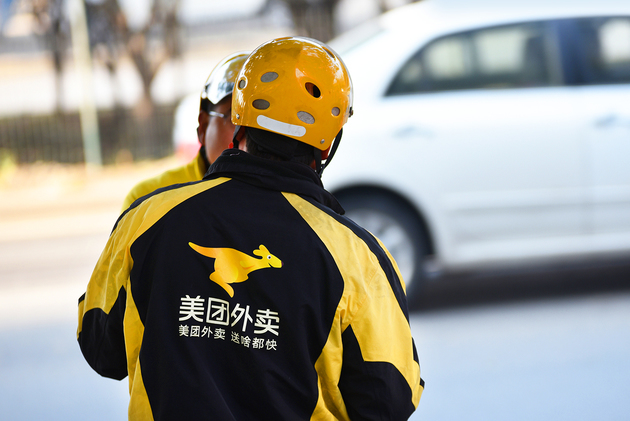 Ordering takeout all the rage
The stiff competition among them benefits delivery men and consumers a lot.
A consumer surnamed Ding told NBD many families recently opted not to make meals and fewer people visited vegetable markets. Taking his community for example, lots of residents there ordered takeout for dinner, and a spectacular scene of food delivering is expected every evening.
The sharp rise of orders also brought generous benefits to delivery men in addition to huge pressure.
A delivery man surnamed Guo said to NBD they have been working very hard these days as there are a load of orders. He had to work for more than 14 hours a day and even had no time for meals. Despite the tiredness, he felt gratified as he could make over 1,000 yuan (159.1 U.S. dollars) per day.
A few of his peers from Suzhou and Hangzou who worked temporarily in Wuxi could even earn more than 2,000 yuan (318.1 U.S. dollars) a day, he added.
Regulator takes actions
Take-out food industry observer Ding Lei said to NBD that the disorderly competition with subsidy as the basis does great harm to the market, and internet giants should vie for market share in a more reasonable way, rather than conducting subsidy wars.
The fierce competition among food delivery service providers also drew the attention of Wuxi's industrial and commercial bureau, and it immediately held talks with Meituan-Dianping, Didi Waimai, and Ele.me.
In the talks, the regulator urged them to stop behaviors that are suspected of unfair competition and monopoly as well as practices that might have affected the market orders, so as to minimize damages.
All of the three platforms, in response, promised to abide by the existing laws and regulation, follow market orders, and continue providing convenient services to customers.
Email: lansuying@nbd.com.cn
Editor: Lan Suying