Apr. 2 (NBD) -- Short video social network is a future trend, a blue ocean which will draw funds of over 30 billion yuan (4.8 billion U.S. dollars) in the coming year, iiMedia Research CEO Zhang Yi said to NBD in an interview.
Sector to draw over $4.8 bln in financing
According to data from market research company Analysys, 64 investment and financing cases in the short-video sector raised 2.016 billion yuan (321.2 million U.S. dollars) in 2015. In 2016 and 2017, 102 and 91 investments were made in this niche sector, providing funds of 6.24 billion yuan (994.2 million U.S. dollars) and 5.397 billion yuan (859.9 million U.S. dollars), respectively.
Data from iiMedia Research shows that 79.55 percent of short-video firms completed an angel round or A-round financing, and only 12.5 percent secured a Series B funding round. This demonstrates the sector is still in an infancy period.
Zhang pointed out that in the coming year, a total of 30 billion yuan (4.8 billion U.S. dollars) will be invested in the short-video sector.
Internet behemoths Baidu, Alibaba and Tencent also eye this sought-after sector. Tencent, in last March, bought a stake in Beijing-based short video app Kuaishou for 350 billion U.S. dollars and Alibaba geared its video platform Tudou towards short videos.
With regard to internet giants' deployment in this sector, a senior expert said to NBD that internet giants have established prominent financial advantages and investing in new types of applications can help them absorb their capital surplus.
Once the internet firms form barriers to entry in terms of the number of users, they are able to lower the marginal cost of business development, explained the senior expert. Barriers to entry refers to the scenario where new entrants are deterred, if a market has significant economies of scale which have already been exploited by the incumbents.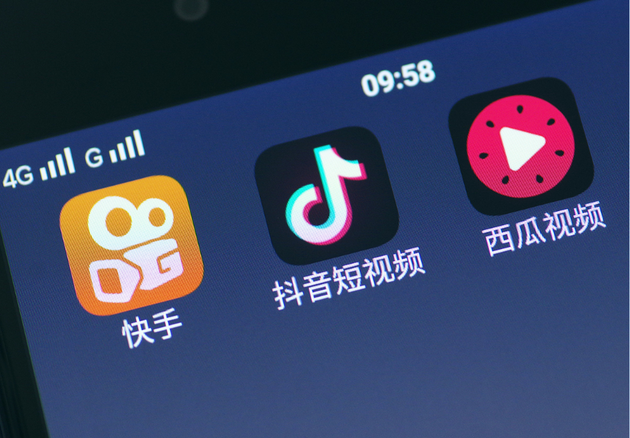 Photo/VCG
Platforms more favored than contents
It's noticed that short video platforms attracted most of the capital, much more than the content production segment.
As of January 2018, Kuaishou has secured funding of about 1.4 billion U.S. dollars. China's largest news aggregation platform Toutiao, which backs a short video app Douyin, has raised approximately 1.2 billion U.S. dollars in recent five years, and Yixia Technology, parent company of China's video blogging app Miaopai, has drawn an investment of 800 million U.S. dollars as of 2016.
Zhang Yi explained to NBD that the profitability of content producers couldn't compare with that of the video platforms, but content production is still an important direction where capital flows.
While continuing the investment in short video platforms, investors will shift their focus to the upstream and downstream of the industrial chain like content production and user traffic management, Zhang noted.
Expanding presence higher priority in short run
Advertising revenue, e-commerce and user charge based on network traffic are major means to cash in on short videos.
Toutiao said to NBD that most of the short videos on its platforms are commercials. Short video sharing app Meipai told NBD that the firm makes profits mainly through online commercials and virtual props used in its live streams.
A senior industry insider noted to NBD that short video companies have started to throw money at advertising so as to expand their market share. The real competitiveness of short videos lies in contents, and once the content quality goes down, the user loyalty drops along. Spending a fortune won't create real value and there will be no winner unless the market experience rounds of reshuffles, the insider further explained.
With respect to the profitability of short videos, Zhang shared his different observation, saying that short video firms shouldn't give excessive concerns to making profits. In Zhang's opinion, videos will be the key to social contact in the future, and a winner will eventually come out because of the exclusiveness feature of the short video market. Once a firm can grab a market share of above 80 or 90 percent, it can make profits in whatever way it wants. For example, Tencent and Alibaba keep raising funds in order to establish a dominant presence in the market, Zhang noted.
Email: gaohan@nbd.com.cn
Editor: Gao Han