1
This is a gift that I recently received. It's incomparably beautiful.
A group of photographers took 30, 000 photos to record the 300 days and nights of Southwestern China's Chengdu, displaying this city's journey from awakening to falling asleep.
The time-lapse video won more than 250,000 views once it's uploaded. I know that you might be busy, but it takes you only 4 minutes to enjoy the beauty of Chengdu from another angle.
The photographers want to remind people about the beauty of the city where we live. Although the photos and video can't take you to a time travel to go through Chengdu's 3000-year history, yet they present you a real Chengdu.

The view of Chengdu downtown from Lianfengyakou, Longquan Mountain (Photo/Shadow)
2
30,000 photos capture 30,000 moments and show 30,000 perspectives of Chengdu.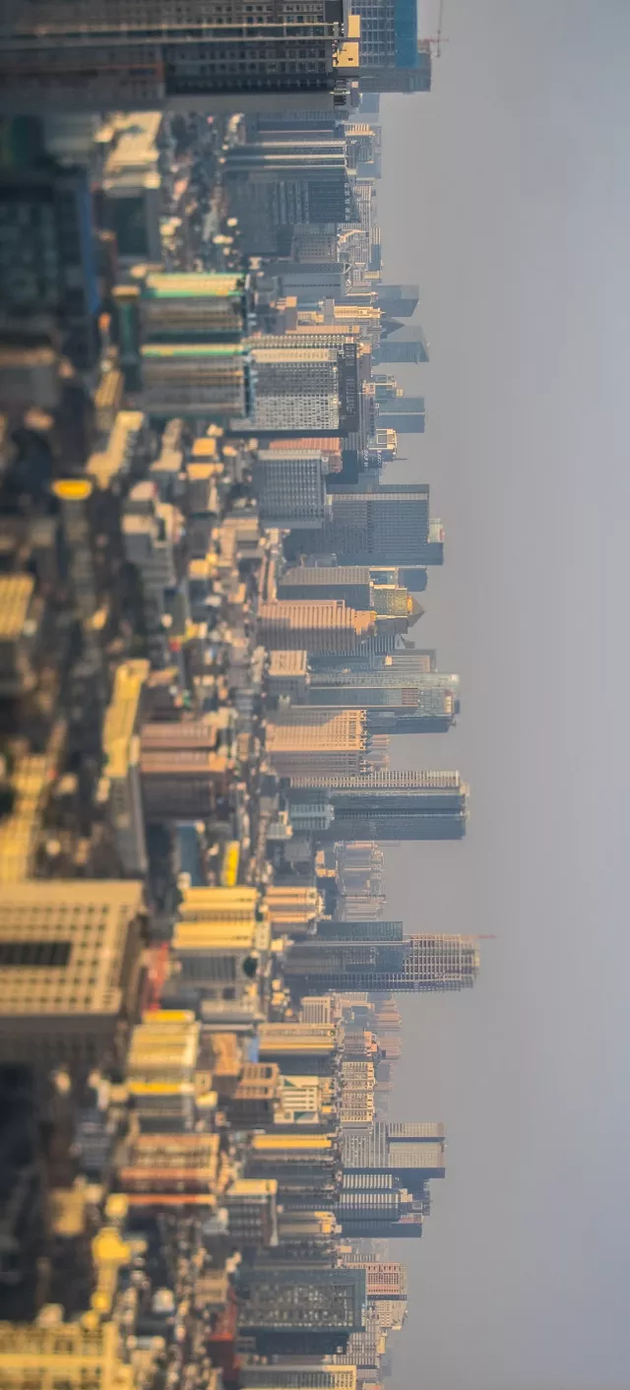 Daylight of Chengdu downtown (Photo/ Master Wisdom)
Have you ever stopped to see what your city looks like, when the evening lights are lit and when a myriad lamps twinkle along the city's skyline?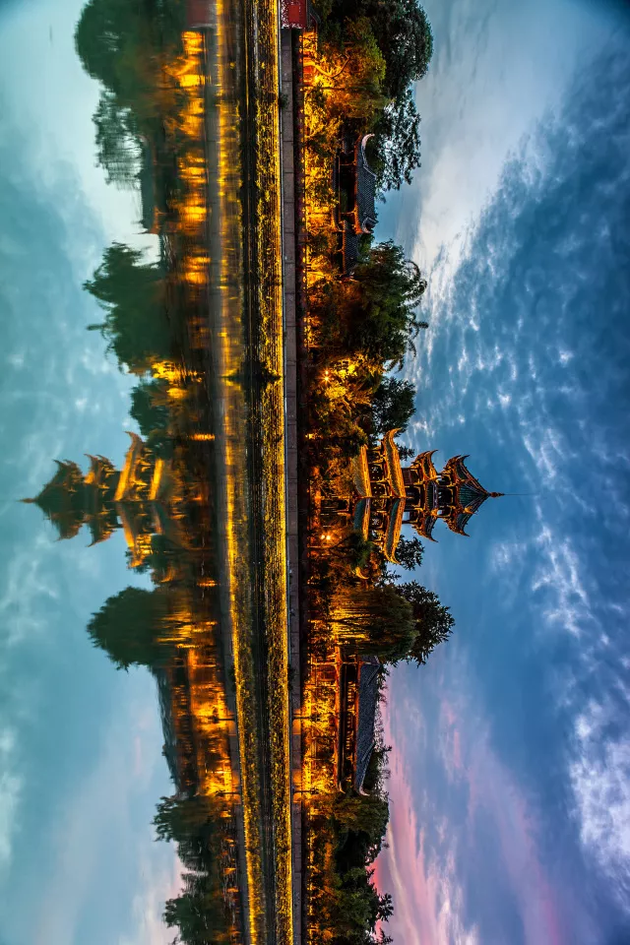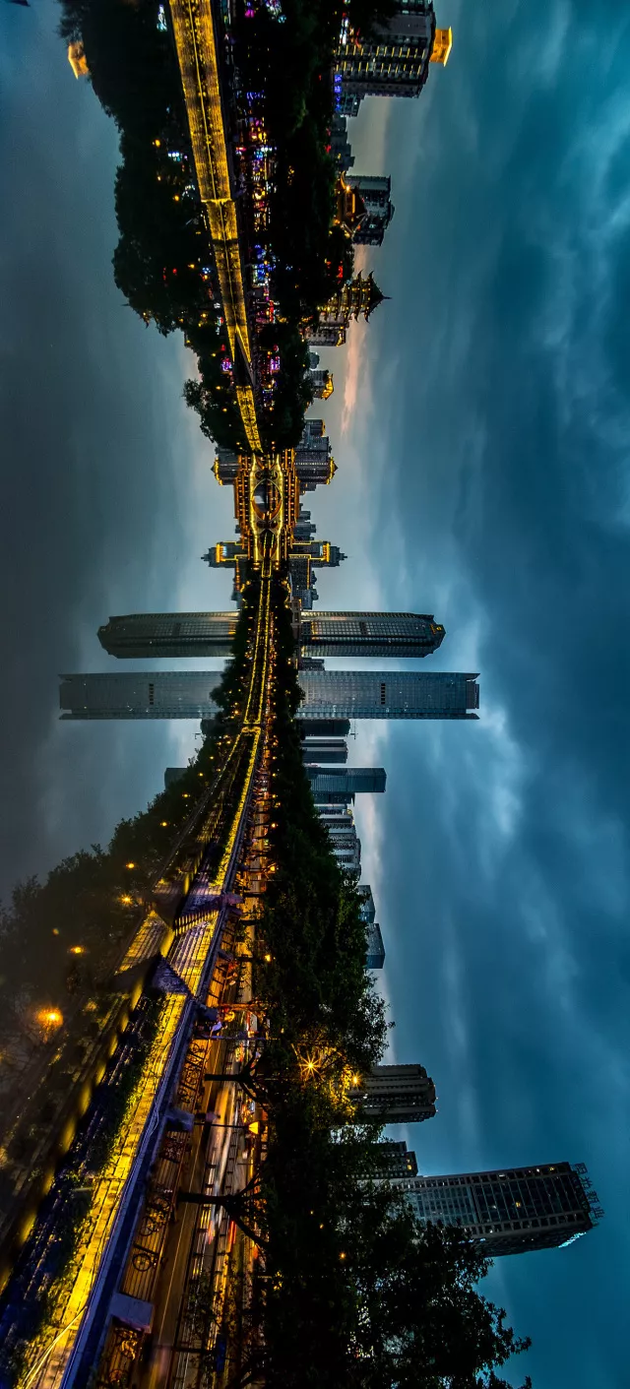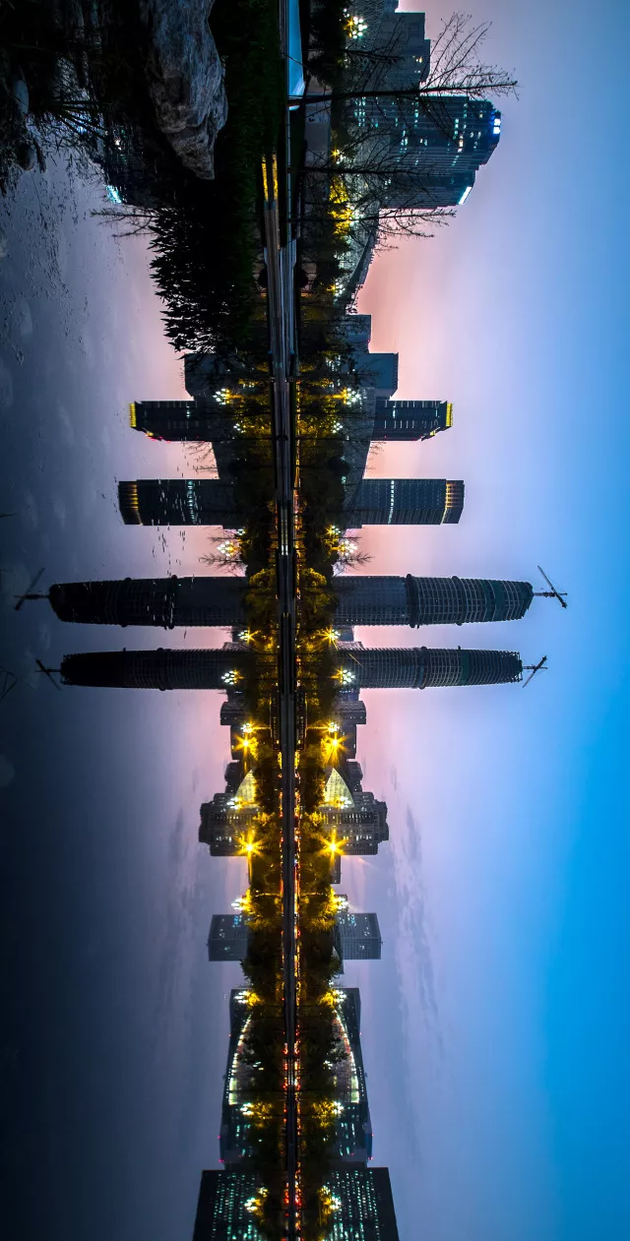 Wangjiang Pavillion, Jinjiang Gallery Bridge and Financial City in sequence (Photo/ Master Wisdom, Shadow)
Have you ever taken a quiet, quiet breath with the city, tasting the sunrise as well as the sunset?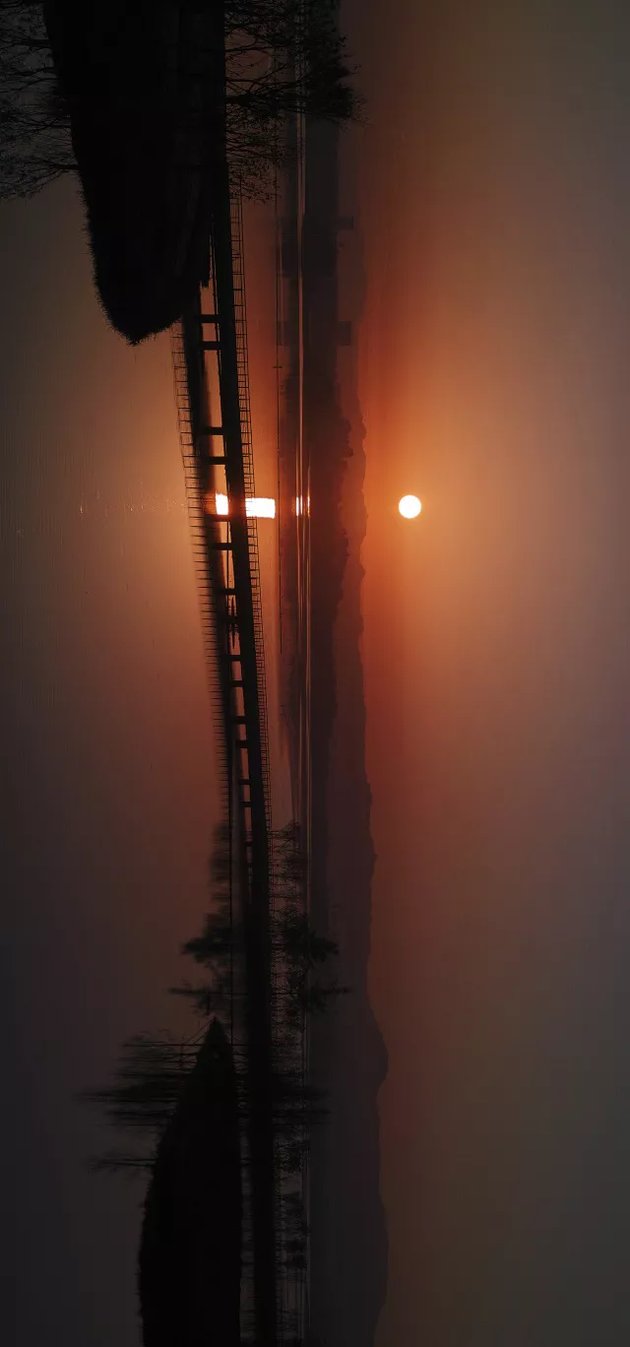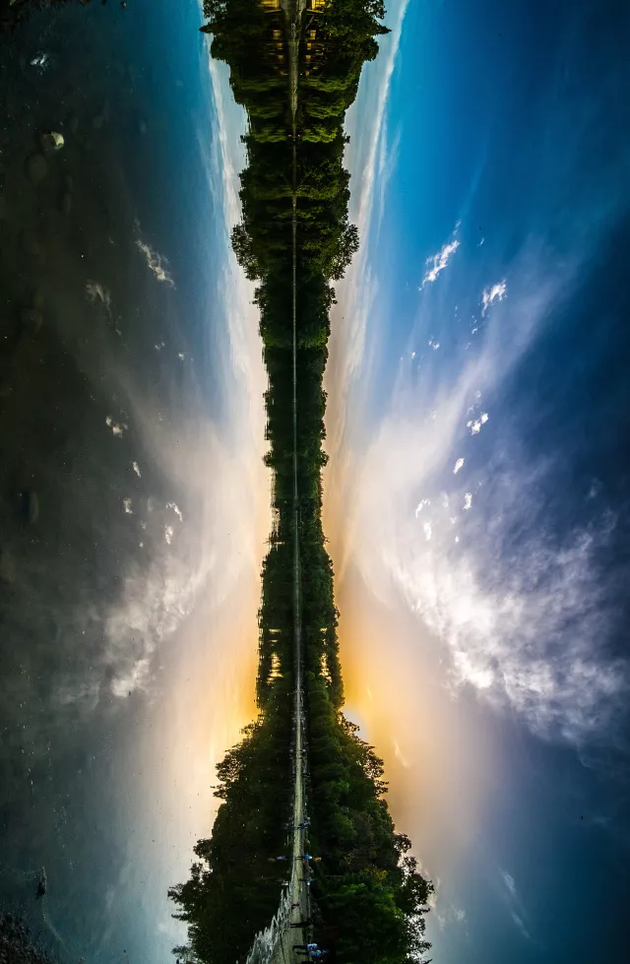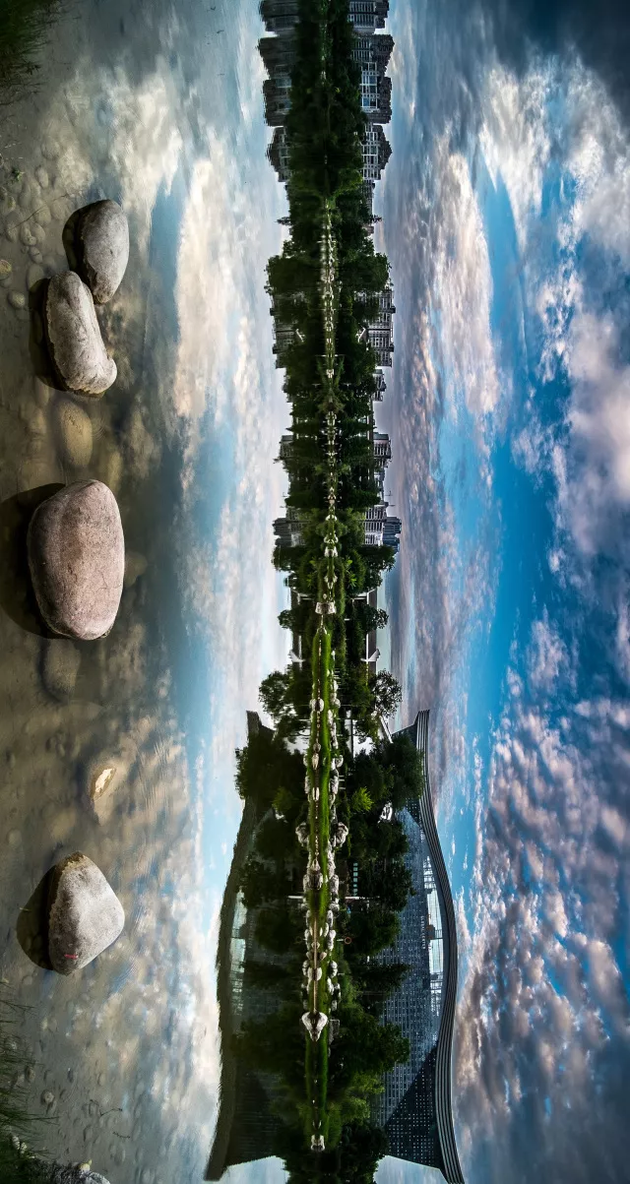 Xinglong Lake, Huanhuaxi Park and Jincheng Lake in sequence (Photo/ Master Wisdom, Shadow)
The working-day stretches from dawn to dusk, and the cycle repeats itself. This is natural merit of Chengdu, which I have missed.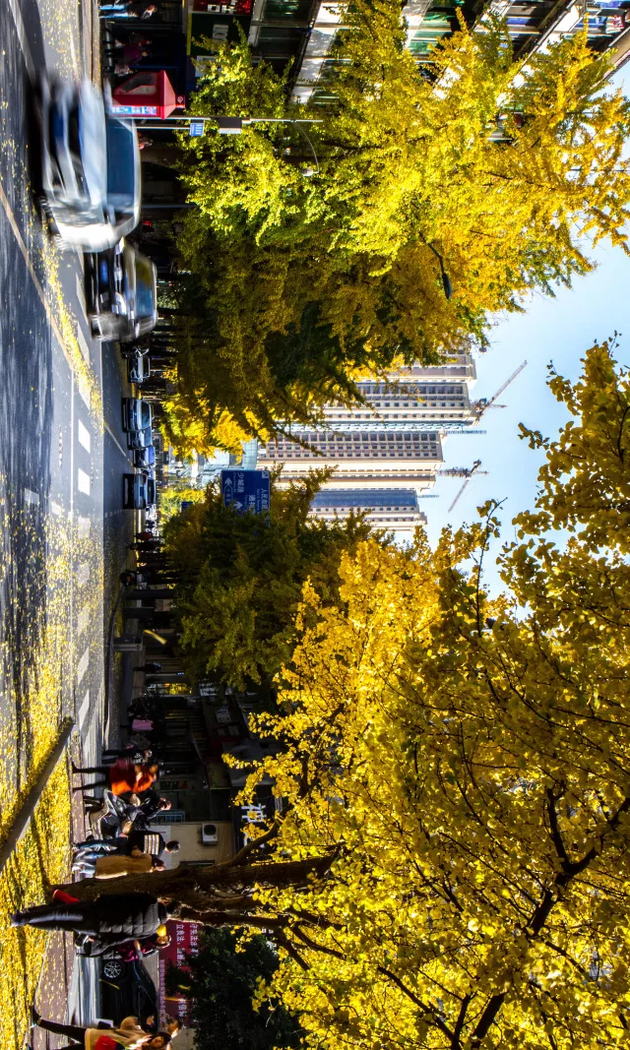 Gingko in autumn (Photo/Master Wisdom)
3
Photography enthusiasts may know it is hard to take these kind of pictures. Except for the hard word from dawn to night, the time you have to wait seems endless.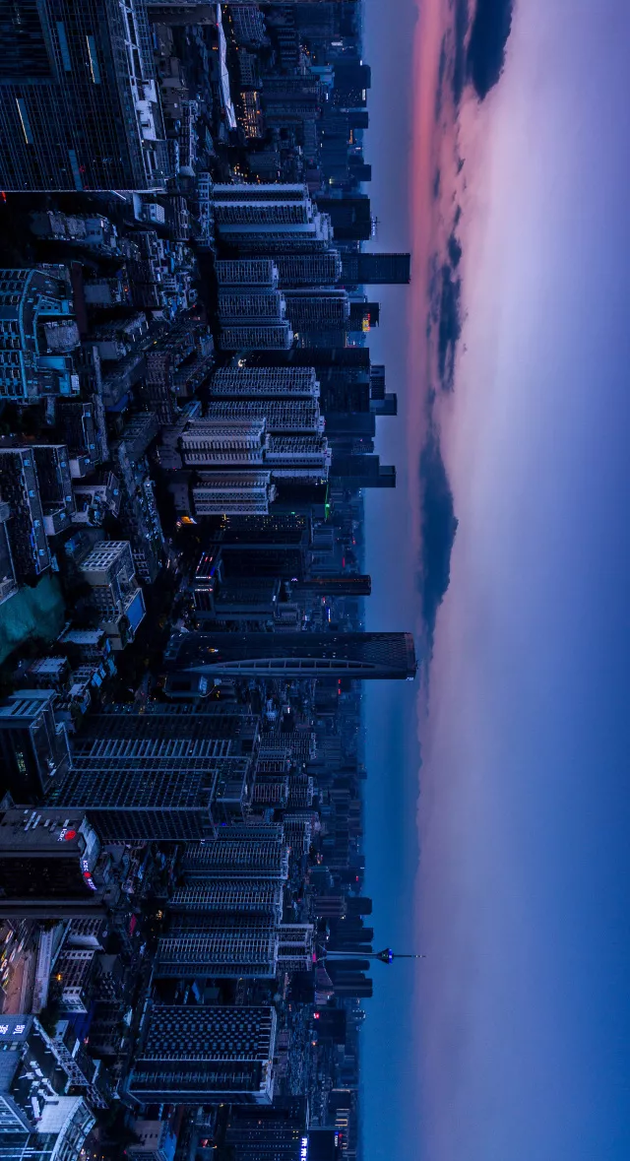 Aerial view of the Chengdu downtown (Photo/Master Wisdom)
All these photographers want is to capture as much spectacle as they could, and then show you what this time-honoured city looks like.

Aerial view of Chengdu downtown (Photo/Master Wisdom)
I was touched when the group of photographers came to contribute. The photos hit my heart, because they save us the fleeting moments we failed to cherish.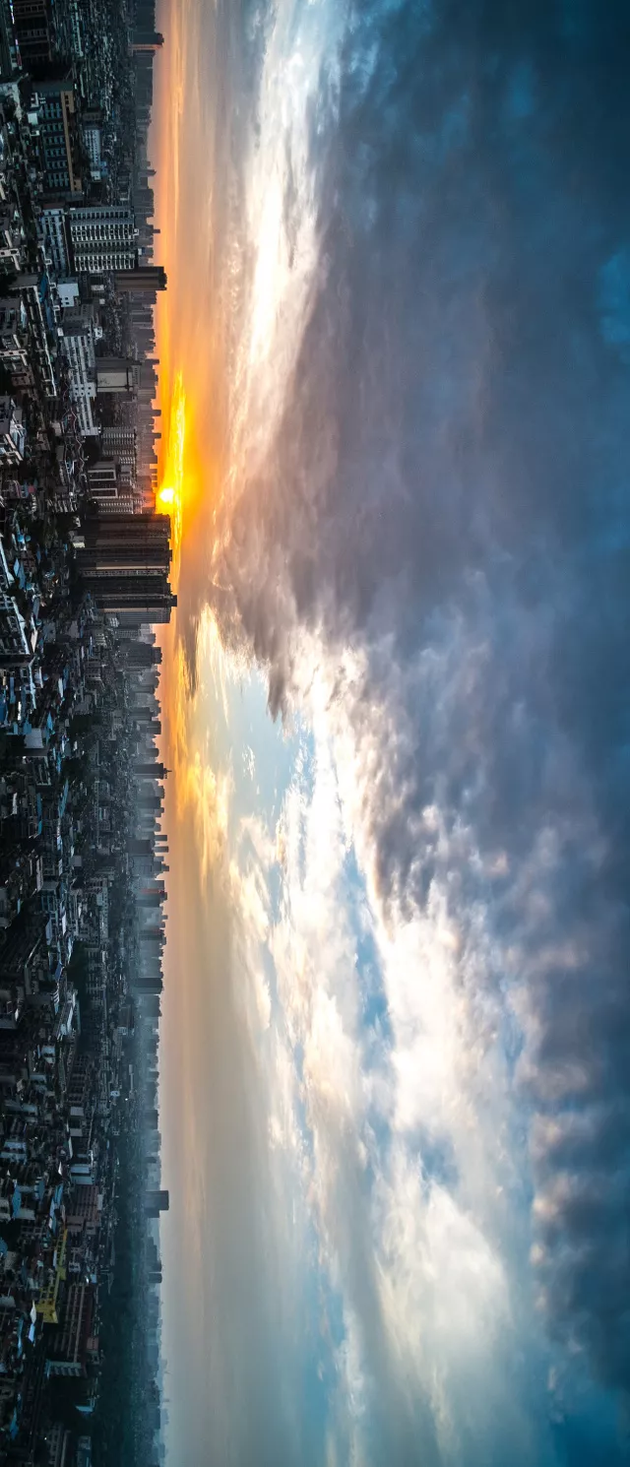 Sunrise at Thatched Cottage (Photo/Master Wisdom)
People in the city seem too busy to take a quiet moment to look around, to feel the ground and to savor the changes of the city.
Sunrise (Photo/Shadow)
4
People have to grow up and move around a few times. The places where we once lived have changed, but to be aware of the changes is not that easy.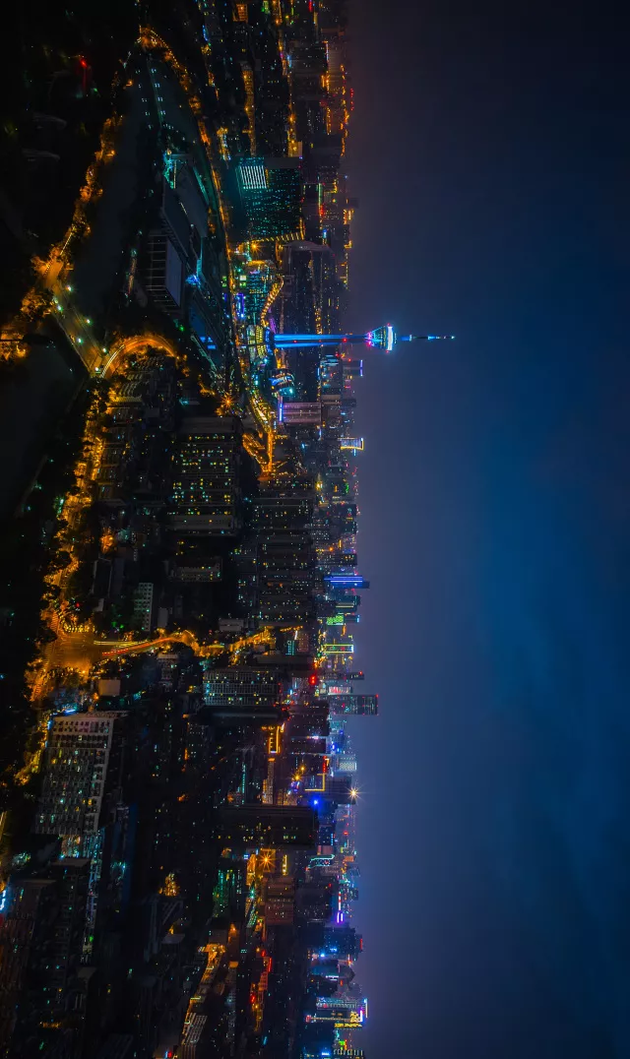 Tianfu Panda Tower (Photo/Madter Wisdom)
And as I recall, the days of studying abroad were the moments when I calmed my mind and thought deeply and when I was homesick the most.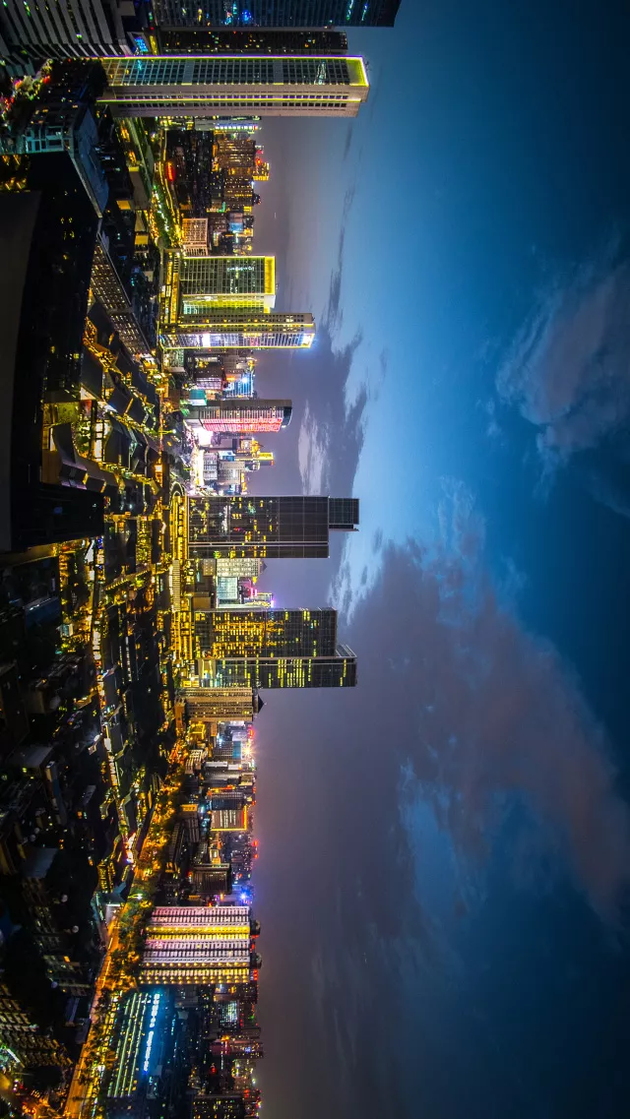 Chengdu Taikoo Li (Photo/Master Wisdom)
I was often sitting on the campus lawn and missing my parents' naggings and the taste of Chengdu.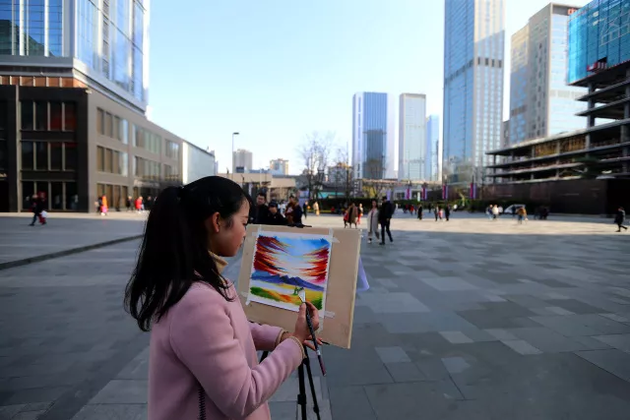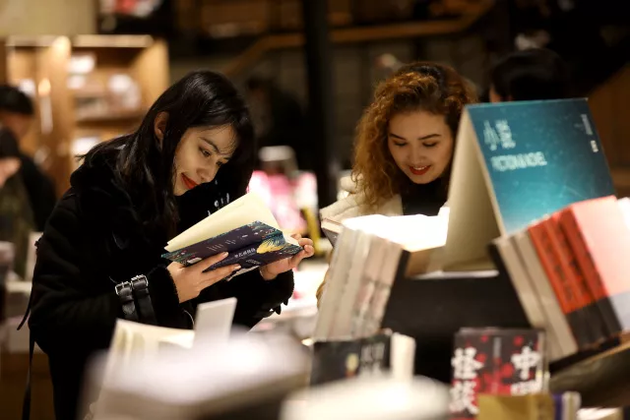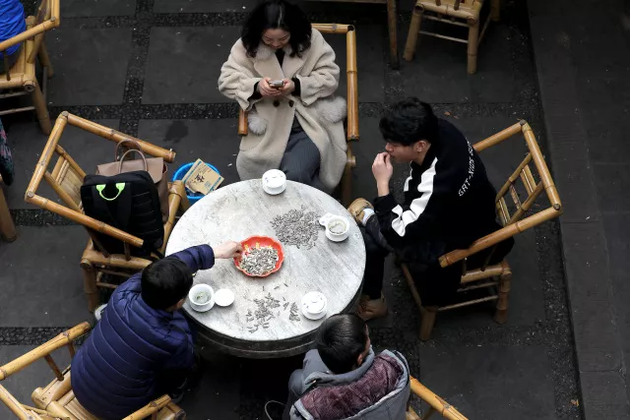 Photos taken at IFS, Fangsuo bookstore and Heming teahouse (Photo/Master Wisdom)
When I come back to Chengdu after years, only to find the city where I lived has changed a lot.
5
I like to wander in history books, and I always wonder what kind of wonderful history this ancient city had been through.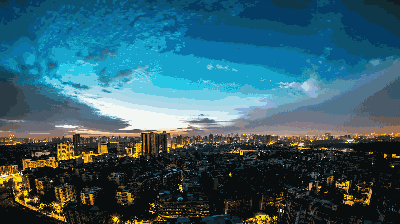 Morning in Chengdu (Photo/Master Wisdom)
I also like to stand at a high point in Chengdu, picturing how my beloved city would look like one day.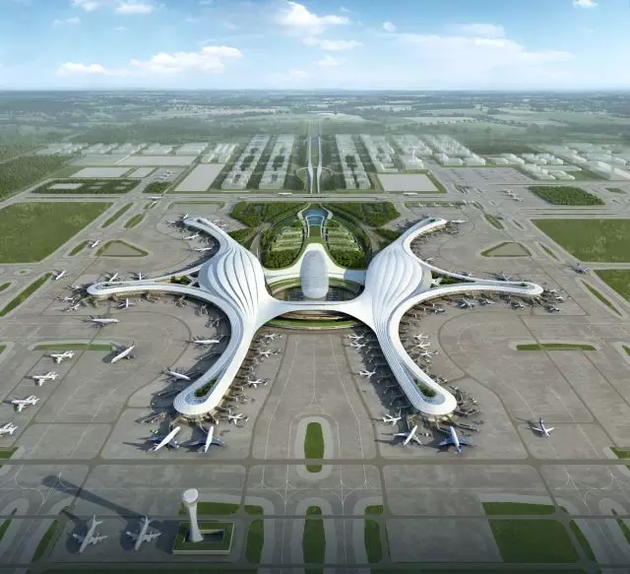 Design sketch of Chengdu Tianfu International Airport
30,000 photos give you Chengdu from 30,000 perspectives. But you should know, there's another Chengdu in the year 2035.

Sketching of Modern New Chengdu
6
In 2035, Chengdu will enlarge with larger central area and population,having stronger strength and confidence to compete with other cities.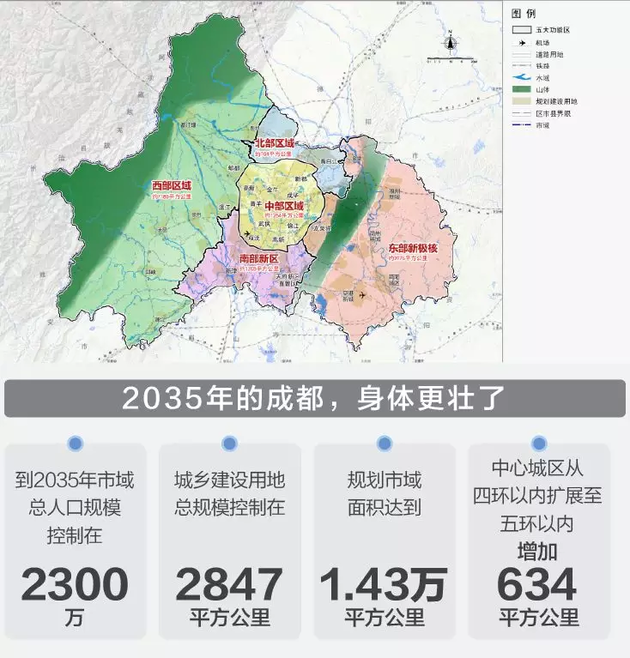 Map: five functional districts of Chengdu in the new general plan
Chengdu with larger size in 2035
As of 2035, the total population of the city will remain 23 million and urban construction land area will remain 2847 square kilometers. The planned urban area will reach 14,300 square kilometers while the central area will expand from the 4th Ring Road to the 5th Ring Road, increasing by 634 square kilometers.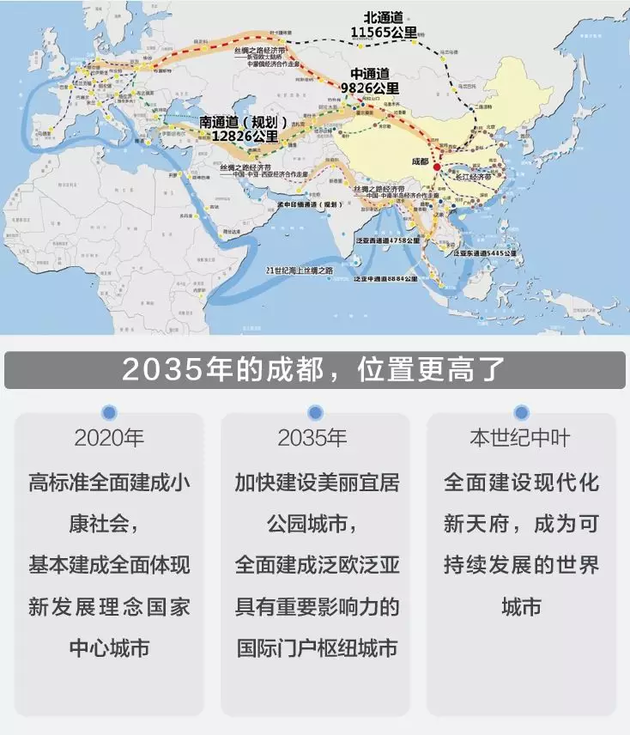 Map: lines of China Railway Express
In 2035, Chengdu will stand at higher position, gearing up to develop into a world city, to be active on the global platform with a broader international perspective.
Chengdu at higher position in 2035
By 2020, Chengdu will build well-off society in all-round way on a high standard, and basically finish the establishment of national central city that embodies the new development concept.
By 2035, Chengdu will accelerate the establishment of the beautiful and livable park city, and build an international gateway and hub with crucial influence on pan-European and pan-Asian areas in all respects.
By the middle of this century, Chengdu will build modernized new Tianfu, and become a world city with sustainable development.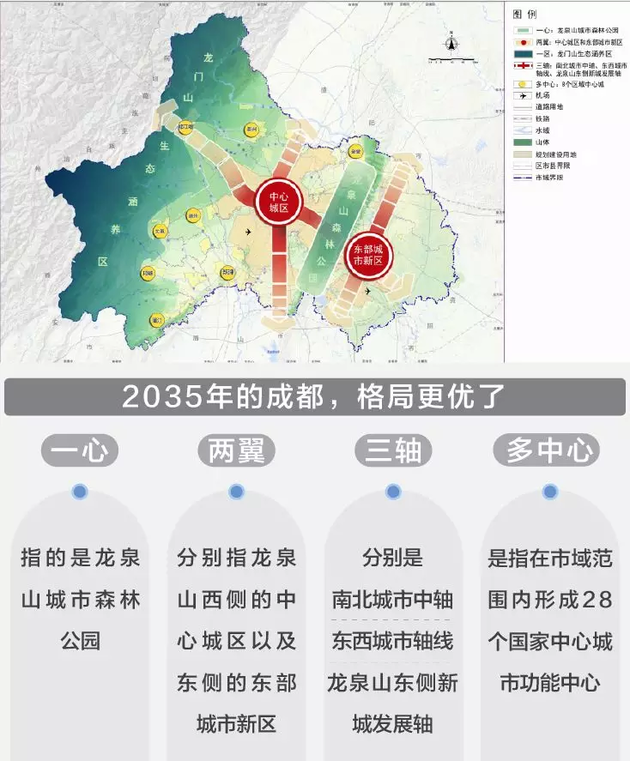 Map: planned urban layout of Chengdu
In 2035, Chengdu will optimize its city layout.
The urban layout will be changed from "a city settled between Longquan Mountain and Longmen Mountain" to "dual cities along Longquan Mountain", and the historic new change will reshape economic geography of the city.
Optimized city layout of Chengdu in 2035
1 center: Longquan Moutain Urban Forest Park
2 wings: central area in the west of Longquan Mountain and eastern new district in the east of the mountain
3 axis: axis of the north and the south of Chengdu, axis of the eastern and western Chengdu and developing axis of new district in the east side of Longquan Mountain
Multicenter: 28 new functional centers of national central city in the urban area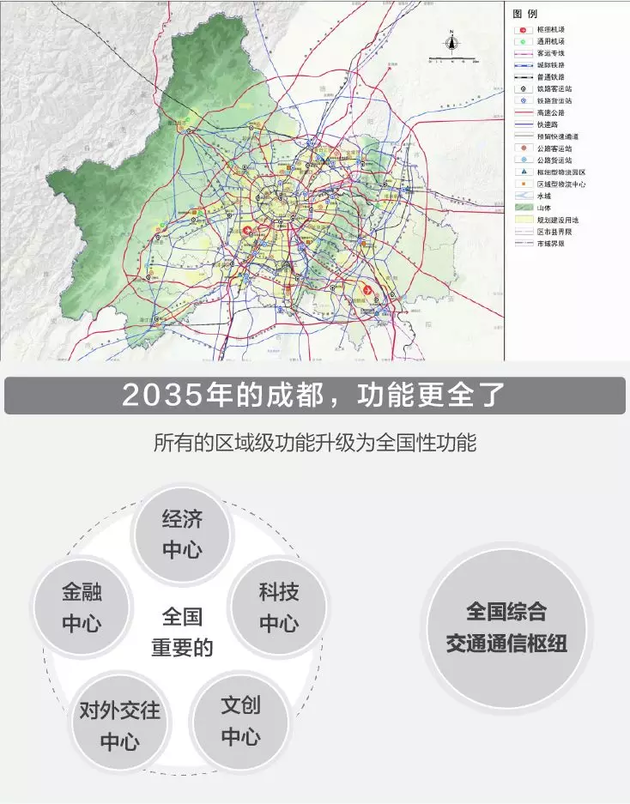 Map: planned urban transportation and hub system of Chengdu
In 2035, Chengdu will play more roles, which was given by the country, along with its advantages of all aspects with it continuous pursuit.
A multi-functional Chengdu in 2035
All regional functions will be upgraded to national functions.
Chengdu is expected to be China's important economic center, financial center, foreign exchange center, culture and innovation center and technology center and also the national comprehensive communication and transportation hub.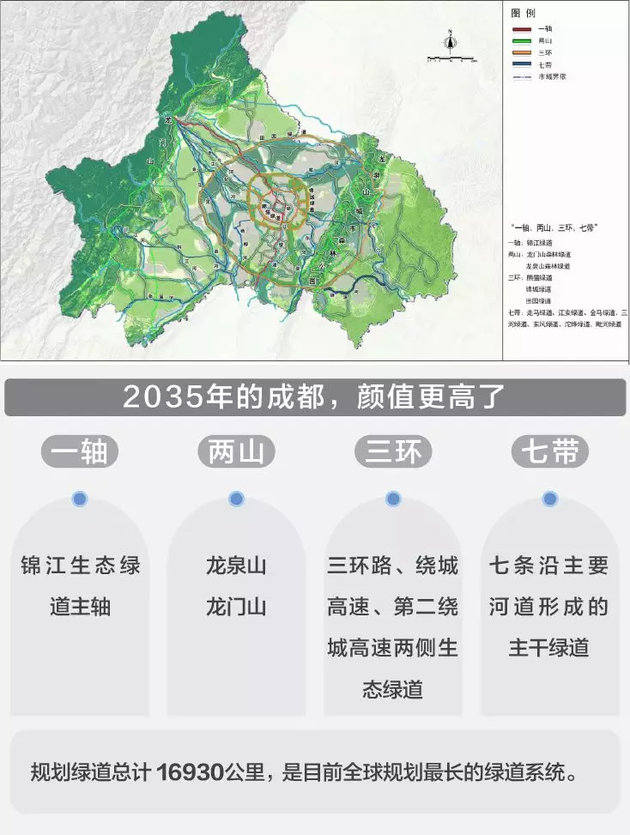 Chengdu's new planned major greenway system
"My humble window frames the snow-crowned Xiling Mountain, the jewel of natural beauty endures millenniums." Those were words left by Du Fu and Li Bai, the beauty of Chengdu thus enshrined into Chinese classic texts. For her 23 million citizens today, it is indeed a place to thrive and enjoy.
Chengdu, an amazing metropolitan city in 2035
1 axis: green belt alongside Jinjiang River
2 mountains: Longquan Mountain and Longmen Mountain, guarding the east and west wings of Chengdu
3 rings: 3rd Ring Road, Beltway (highway around Chengdu city), 2nd Beltway and its green belt
7 belt: 7 major greenways alongside inner-city rivers
The greenway with total length of 16,930 kilometers will become the longest greenway in the world.
7
Time flows like a river, and the outfit of Chengdu changes with time. Memories and anecdotes shall remain, alongwith my love for this place.
Looking back at her 3000 years of history, we are proud of the lively tales; looking forward to her future at the year of 2035, we keep faith and strive for better.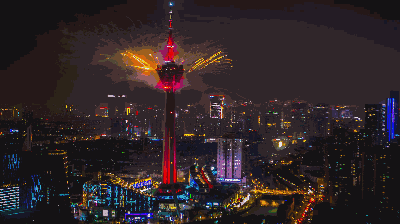 Fireworks show of TV tower by photographer@Master Wisdom
This article is dedicated to our beloved Chengdu.
Editor: Gao Han