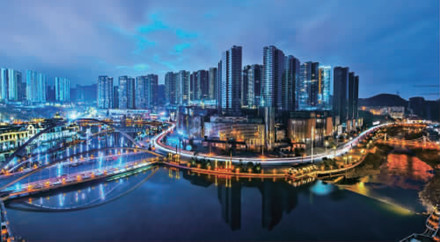 CHENGDU Dec.23 (NBD) -- Zhongtian Urban Development Group Company Limited (Zhongtian) invested lately 2 billion yuan (about 289.86 million U.S. dollars) in its PPP project covering Southwestern China's provinces including Yunnan and Sichuan.
Zhongtian established at the end of 2014 its wholly owned subsidiary, a Guiyang-based financial management firm, with register capital 170 million yuan (about 24.64 million U.S. dollars). Register capital totals 9.9 billion yuan (about 1.43 billion U.S. dollars) after several rounds of increment injected. The Guiyang-based firm serves as a key platform in its financial sector, according to Zhongtian's strategic deployment. 
Zhongtian ramps up its acquisition and investment in financial sector since the year of 2016, moves such as acquisition of Zhongrong Life Insurance Co., Ltd., stake increment in Haiji Securities, investment in listed company Bank of Guiyang.
The company also avails of Guiyang's ecological advantage in the tapping of health sector, with its pioneering step towards open-ended real estate from the asset-light strategy.
Editor: Zeng Yunheng