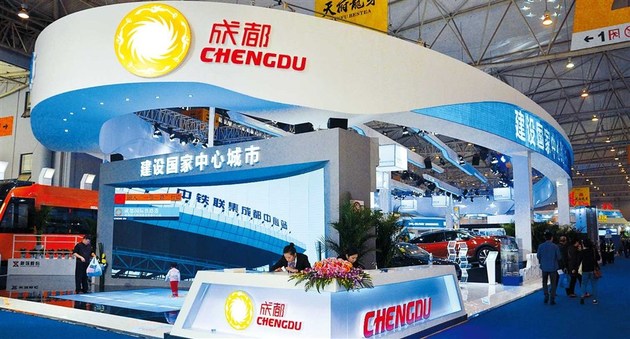 THE Western China International Fair has again put Chengdu, capital of Sichuan Province, at the center of the world's attention.
Organized around the principals of "cooperation, sharing and mutual benefits," the state-level exposition carries the theme "Western China: the world's opportunity" this year. Established in 2000, the event provides an important platform to promote trade and investment in a region many see as China's newest growth engine. Chengdu has been chosen as the permanent venue for the annual Western China International Fair.
At the opening ceremony at the Chengdu Century City New International Convention and Exhibition Center on November 3, Chinese State Councilor Wang Yong said China's west harbors the country's growth potential, and thus offers many opportunities to the world.
"China's west has achieved a lot during the past few years in social and economic development," Wang said. "China will stick to its 'developing western China' national strategy and welcomes corporations from both home and abroad to cast their eyes on this vibrant land."
The "One Belt, One Road" initiative was a core topic at the forum's international cooperation session this year. Proposed by Chinese President Xi Jinping three years ago, the initiative has become a byword among investors for efforts to promote trade and investment.
"The future of the initiative is creating shared wealth and growth for all participants," Wang said.
"We hope countries involved can grasp the chances offered … With distinguished strength, participants can have different contributions to the initiative, realizing effective cooperations that fit each nation's growth strategy," Wang said.
Wang expects the initiative will continue to enhance partnerships between countries along the "Belt and Road" route, while encouraging practical cooperation to improve people's livelihoods and accelerating economic growth.
"The initiative should contribute more to realize the world's sustainable, balanced and inclusive development," Wang said.
As a city involved in both "Silk Road Economic Belt" and "Yangtze River Economic Belt," Chengdu is active in China's "One Belt, One Road" initiative. This year, Chengdu kicked off the construction of its second airport, making the city China's third that owns two airports. With its geographic strength, Chengdu strives to become a gateway to enhance China's partnership with Europe through improving its airport and port facilities to forge a Chengdu-Europe link. The city will also strengthen its comprehensive competitiveness as one of China's central cities in economics, technology, culture and innovation, foreign collaboration and transportation hub.
Additionally, Wang said China will work to make investment easier for foreign companies.
German Vice Chancellor Sigmar Gabriel said Germany — the guest country at this year's fair — is an open market, with no restrictions except on security matters.
"The Chinese investment in Germany has surged in recent years and the prospects were promising," said Gabriel. He raised the hope that China can continue to reduce restrictions on foreign investment and that companies from both countries can enjoy a fair competitive environment in China.
Answering his call, Wang said China will continue to optimize foreign investment conditions. In return, he hoped Germany will treat Chinese investors equally.
As business links between the two countries grow, Wang said China will promote bilateral cooperation in the fields of equipment manufacturing and renewable energy.
Chengdu has close partnership with German. In 2014, Sino-German SME Park was launched in Chengdu. Located in Pujiang County in southwestern Chengdu, the 30-square-kilometer park has attracted 48 fine companies, including Bosch's two subsidiaries and a research and development center.
As a bellwether of China's west, Chengdu continues to experience stable growth, even as a set of economic conditions collectively known as the "new normal" lead to deceleration in other cities and regions.
In 2015, Chengdu's gross domestic product amounted to 1.08 trillion (US$158 billion) yuan. In the first half of this year, Chengdu's GDP expanded 7.5 percent to 559 billion yuan, according to the Chengdu Bureau of Statistics. That compares with a national average of 6.7 percent.
Fixed-asset investment, which includes spending on the construction of roads, bridges and factories, accelerated 13.9 percent to 418.3 billion yuan, up 1.1 percentage points from the first quarter to set the fastest pace among capital cities in China. Fixed-asset investment in manufacturing rocketed 37.3 percent.
Chengdu is also a financial hub of western China. It is home to nearly 1,800 financial institutions involved in banking, insurance and securities, and houses more than 500 emerging financial companies, which provide small loans, financing guarantees and investment funds. A large number of financial institutions, which ranks among the top ones in western and central cities, have also helped to create a comprehensive and powerful financial ecological system in Chengdu.
Besides the hardware such as trading platform and financial infrastructure, professionals are considered indispensable software. Xie Ping, a financial professor at Tsinghua University, said during the forum that Chengdu should take advantage of its educational strength and map out policies that encourage innovation while tolerate failures. Chengdu can attract more talented people from both home and abroad, Xie said.
With comprehensive and coordinated growth in areas like finance, transport, trade, and talent training, Chengdu is expected to remain at the frontier of China's development for a long time to come.
The annual Western China International Fair is a reflection of the growing importance of the city. This year, the event was attended by 37 foreign ministers, 25 ambassadors and guest visitors from 91 countries and regions.
The exposition covered a floor area of 200,000 square meters, and showcased the latest in advanced manufacturing and consumer goods production. There were 13 themed exhibition halls, 16 country pavilions, a new record for the fair. More than 9,027 exhibitors from 76 countries were also present.
Over its 15 year history, the fair has drawn a total of 344,000 visitors and 46,800 exhibitors and created business worth 1.25 trillion yuan.
Editor: 余冬梅